Couples Massage Classes
In our group couples massage classes you can expect to learn the very same massage techniques Meagan Holub has used to turn celebrities into raving fans of her work. You will learn to massage better, firmer, more gracefully and intuitively in a fun, safe, and beautiful class environment. Our Couples Massage Class 1 covers back, scalp and feet. Couples Massage Class 2 covers arms, legs and hands. We highly recommend purchasing both of these classes in the Couples Class Full Body Series 1 & 2 to learn to give a fantastic Full Body Massage for the one you love. While the classes do require two people, and have a high number of romantic couples attending, attendees do not need to be romantic partners. Friends, families, and anyone interested in learning the enviable skill of giving an excellent massage, is welcome. Likewise, this class is open to all ages and types of couples. We have only one requirement of you: be a loving human being who is ready to give to your partner, as well as receive. Take a peek at our schedule by choosing your city, here:
The Love Institute Scheduler
Private Massage Lessons
To learn more about our customized private lessons hosted in your home or hotel read more here .
Or to schedule now, simply email us and a lesson will be customized for you with the massage instructor of your choice.
Online / Livestream Class Membership
Learn to massage each other in a variety of videos of differing lengths, techniques, and for different "touch types" as described in Meagan Holub's upcoming book The Language of Love©.
Unleash your inner massage guru with the help of the instructor of your choice through personalized livestream classes, and sample from our unique in home date ideas and exercises uploaded each and every month.
More information and monthly membership sign up here
Smile! Share your experience.
We love receiving your after class
selfies. Keep massaging, happy couples!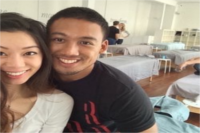 2016 Oscars Gift Suite.
Jamie Fox and Meagan Holub of the
The Love Institute meet again.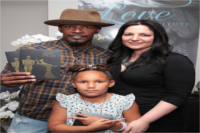 Massage products you need.
Find highest quality, green factory,
locally sourced massage products in our shop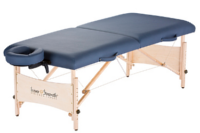 Love's Global take over.
We now offer online massage classes, live.
We now offer online massage classes, live.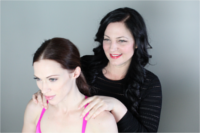 If the body is an instrument, massage is the song played upon it.

Meagan Holub, for Grammy.org's Music Cares honoring Sir Paul Mc Cartney
If everyone got a massage a day, there'd be less war in the world.

Meagan Holub
There is always this moment in every class, where someone leans down and kisses the forehead of their partner. Although they sneak this secret kiss, kisses like sneezes, must be contagious, because one by one the others in the room follow suit. I wait to witness this magic happen in every class.

Meagan Holub
Massage is good stuff, to be sure. But massage with love... is there anything better?

Meagan Holub
MEAGAN

Founder

Meagan Holub, Celebrity Massage Therapist and Founder of The Love Institute is beyond grateful to be able to share the profound affects of touch with other. She is currently writing The Language of Touch© which provides tools for partners to effectively communicate through the most ancient of all languages: touch.

GINA

LMT in Missouri

Gina, a Kansas City native, massaged pro athletes in L.A. before discovering The Love Institute. She feels blessed to be able to share how-to-massage with couples in her home town and adores the love-in-the-air feeling of each and every class.

VIVIAN

LMT

Vivian is an experienced massage therapist who has been relieving the aches and pains of stressed out New Yorkers for over a decade. She is excited to help couples connect through massage.

STACEY

CMT in Los Angeles

Stacey has a deep passion for assisting others on the path to well being. She is thrilled to be able to share this same passion with Couples during Private Couples Lessons.

LIZ

LMP in Seattle

Liz is excited to share her knowledge of massage with you. She has been practicing massage with Doctors and catering to high-end clientele for over 10 years.

BRETT

CMT in Palo Alto

Brett found the benefits of massage to expand beyond physical healing and into realms of metal and spiritual relaxation and enjoy helping others learn how to use massage to benefit their health.
Donations & VIP swag:
The Love Institute is your trusted source for swag bag gift certificates, back stage events, and makes a unique and fascinating topic for television and radio audiences.  Meagan Holub, Founder and The Love Institute have been invited into gift bags for The Academy Awards 2016, The Grammy Music Cares 2012, Brad Pitt's Make It Right 2012 and Warren Etheredge's The High Bar, for many years. Likewise, Meagan has been invited as an expert for television shows on CBS, VH1, NBC and more. To request gift certificates for your special event or important cause, please contact askcupid@theloveinstitute.com to coordinate details and customization of your special occasion. To reach Meagan directly with media opportunities, please send an email to meaganholub@theloveinstitute.com or call 1 800 388 6477 and leave a message under the extension #4, for Meagan Holub.